The glorious summer day (2014) I spent at Winterthur, which is the one-time home of the DuPont family located near Wilmington, Delaware, has been the source of a lot of fun images. This latest is actually a re-work of a pic I already added to my portfolio. Since I've gotten so wrapped up in digital photo-painting in Corel Painter, I've redone several old favorites, and "Gone Girl" is one of them.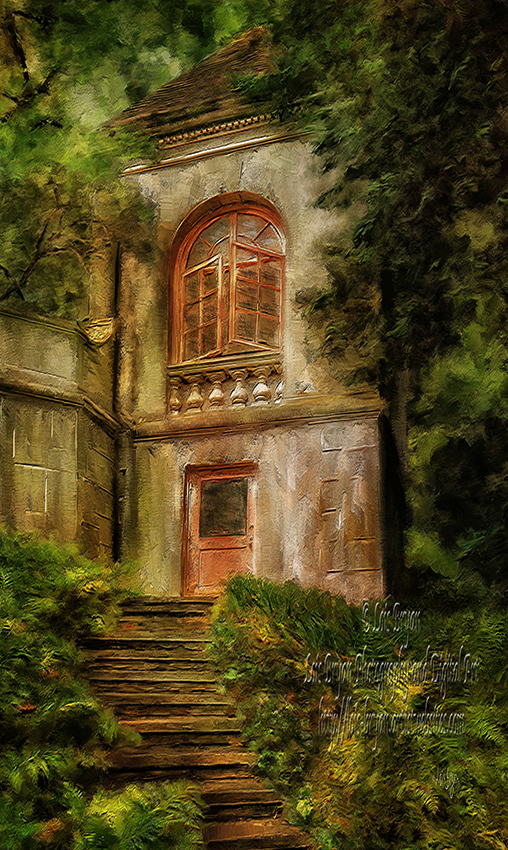 A unique building, probably referred to as a folly in its day, its upper level stands at the corner of a lovely garden patio. Don't you love that giant, out of proportion window? A tease: I have several images of the interior of that room that I've been holding back working on. To my eyes, they are awesome. Not a clue why I haven't played with them unless it gets back to that old chocolate bar in the closet thing. You know you want it, but as long as you don't eat it, you still have it. Hey, there really is a weird logic in there. Somewhere.
Anyhow, "Gone Girl" is based on the same original photograph as "Rapunzel, Rapunzel," which I added to my gallery a few months ago. The title of that one was taken from the old fairy-tale. Can't you just see Rapunzel up there at the window, with her long, golden hair hanging down? The title of the new version,"Gone Girl," is an imaginary extension of the story of the original, but meant to show that Miss Rapunzel has left the building.
The photo used for both was taken in August of 2014 with the Nikon D7000 and the 18-24mm vr Nikkor lens, then edited in Camera Raw, Photoshop CS6 and completely digitally hand-painted Corel Painter 2015 with the Wacom tablet and some lovely brushes.
By the way, I'm honored to announce that "Gone Girl" won First Place in the Fine Art America "FotoPainting – September Logo Contest," August 31, 2015. My sincere thanks to everyone who voted for my image and to the contest host, Jeanne O'Keefe. Much appreciated!
*****************
As always, a click on the image takes you to my website where "Gone Girl" can be seen in a much crisper resolution and a much nicer watermark. Also, this is the place where you can find the image on fun gift items as well as fine wall art … framed and otherwise.